Anady's Trophies and Engraving, Inc., is an established business, family owned and operated in Hemet, California in the heart of the Inland Empire in Southern California. We take great pride in the quality of our work and our ability to service our customers. We have been in business in the San Jacinto Valley since 1976 and we have become one of Southern California's premier awards and recognition suppliers.
Each item we produce receives detailed attention and comes with our quality assurance. Our production facility is operated by a skilled and trained staff using state-of-the-art equipment. We have in-house graphic design specialists who can help you with your project requests. Our staff will help you choose attractive and innovative awards that you will be proud to present. You will walk out our door satisfied with your order.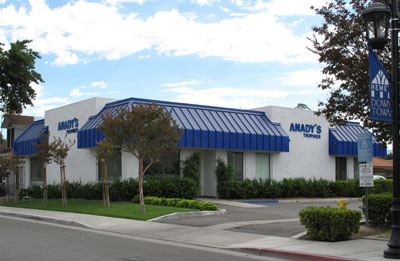 Trophies, medallions, plaques, crystal, marble, ribbons--we have everything you need to get your job done in one stop.
Anady's is uniquely qualified to create stunning one-of-a-kind sandcarved crystal, glass and acrylic awards. Our creative ability stems from the owner's passion for color and design.
We serve a wide variety of clients in the Inland Empire as well as all of California--including local, state and federal government agencies, schools and churches, corporations, service and non-profit organizations and youth and league sports associations. As a member of one of the largest award buying co-ops in the United States, Anady's has the buying power to source the most competitive and unique team award products from around the world. This pricing advantage combined with the flair for design will always create a win-win situation for league commissioners and send the participants home with a winning smile on their faces.
We can take care of you!
At Anady's, you can be assured that you are receiving the highest quality items at an affordable price. We also offer quick turn-around times if necessary and gift wrapping so you can walk out the door and go to the party. We look forward to working with you! You can be sure that we will handle the details of your order to your satisfaction.
Owner, Candy Anady, was the recipient of the 2005 Dionysus Award for Entrepreneur of the Year.
In 2008, Anady's Trophies and Engraving received the Hermes Award for Customer Service.